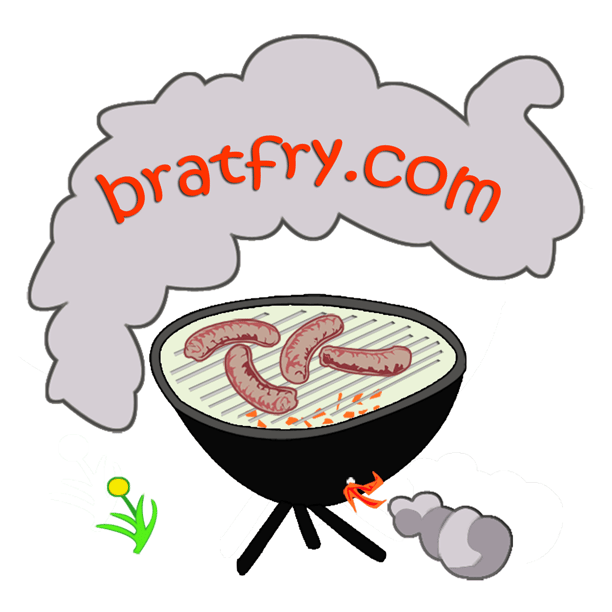 All about Condiments, aka "the Works"
If you're going to have a brat on a hard roll, you may as well have it with "the Works". The Works consist of pickles, ketchup, mustard, and onions, or PMKO for short.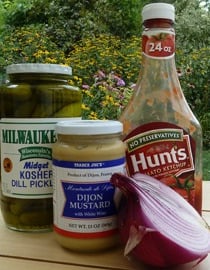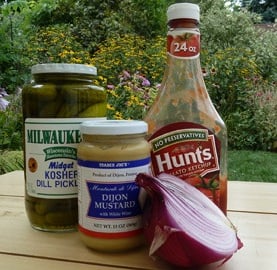 Pickles
Dill pickles are standard fare for the classic Whole Grilled Brat recipe featured on bratfry.com. Brat Fry Ferg's favorites are those Midget Kosher Dill Pickles you see here. To avoid a culinary faux pas, forget relish or pickles of a sweet variety since they are reserved for hot dogs and wieners. (And please, don't ever refer to a brat as a wiener!)
Ketchup
Should be red, and as a rule, the thicker the better. Avoid the overly runny variety because of its high DOY factor.
Mustard
Quite a bit of liberty is allowed in selecting an appropriate mustard. Brat Fry Ferg's favorite is that Dijon style, but whole grain or German-style mustard would do just fine. Don't get too clever in selecting your mustard. Keeping it straight and simple, with a bit of bite, is best. Just don't resort to that ordinary bright yellow hot dog style mustard unless you have nothing else. A hot dog may be a distant relative to the brat, but it ain't no brat.
Onions
Yellow or white are the onions of choice, although red onions may someday become equally popular. But avoid using green onions (aka scallions). Frankly, they just look silly alongside a brat, and there's only so much room in a bun.
Now that you got this all figured out, maybe you should treat yourself to a PKMO Tshirt!