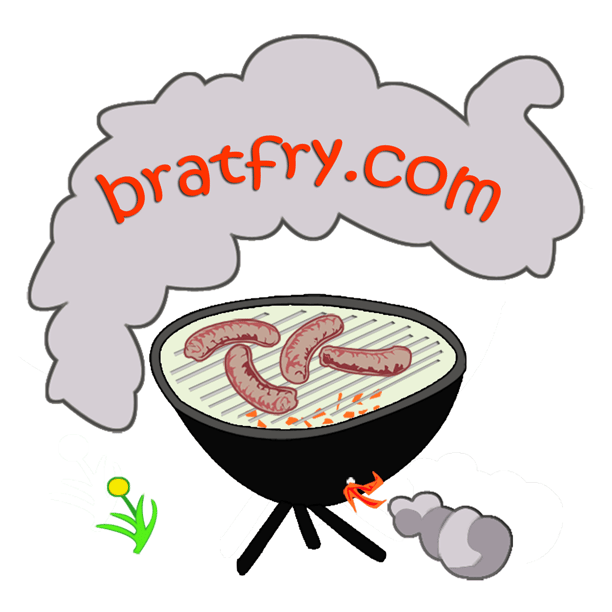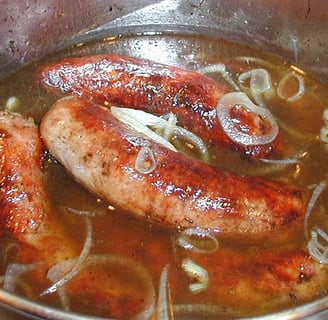 Since you have to get those brats from the grill to the table somehow anyway, you might as well make a little Brat Au Jus (aka your Basic Brat Broth) for the journey. Slice up an onion, add a can of beer, get that all nice and hot on the grill and then dump in your brats. That's all there is to it! Brat Au Jus is very versatile and a staple of classic Brat Fry cuisine. You can make it in advance and let your brats sit in there, just like they're taking a cold bath for an hour or so before you put them on the grill. (No, don't even think of boiling them!) And don't throw it away after you start grilling. Once your brats are about 3/4 done (approx. 10 min.), place the pot on the grill (you're using a metal pot, right?) and get the Au Jus simmering. Then toss in your brats and finish them off by having them simmer away until they're done (remember, we always say brats are "done" - we never say they're "cooked").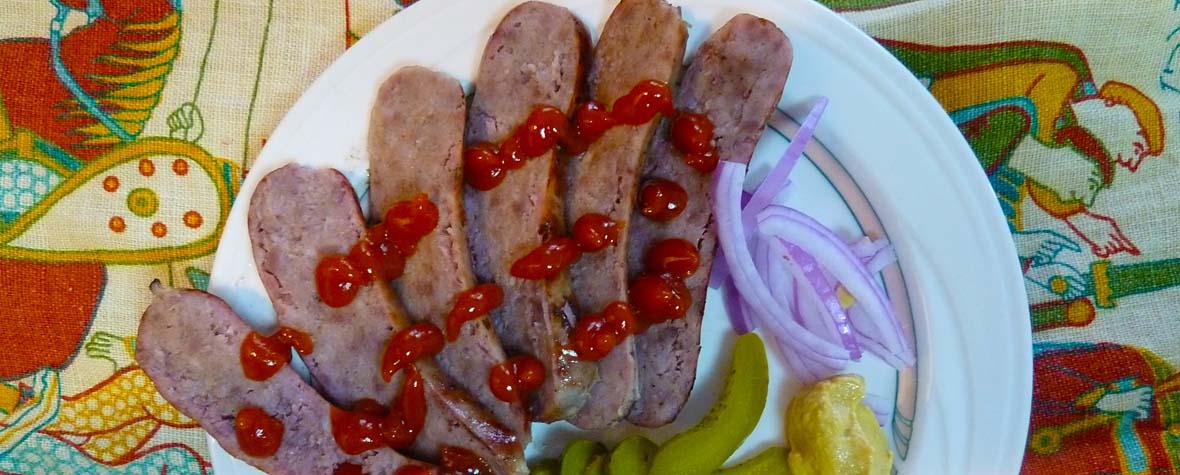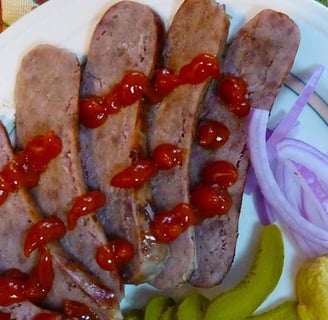 Select a succulent juicy brat from among those prepared according to our Basic Brat instructions. Take a sharp knife and slice length-wise down the middle of the above mentioned succulent juicy brat. Carefully separate the two filets and prepare for the next step. Now for the next step, which is this: place your two delicate filets of brat delicately upon a bed of freshly cut pickles and onions. Finish off the Filet de Brat with intertwining layers of ketchup and mustard of your choice or choosing (or both), and gently cover with the remaining portion of the sliced bun, which – if you followed the instructions correctly – should be the top portion of the aforementioned sliced bun.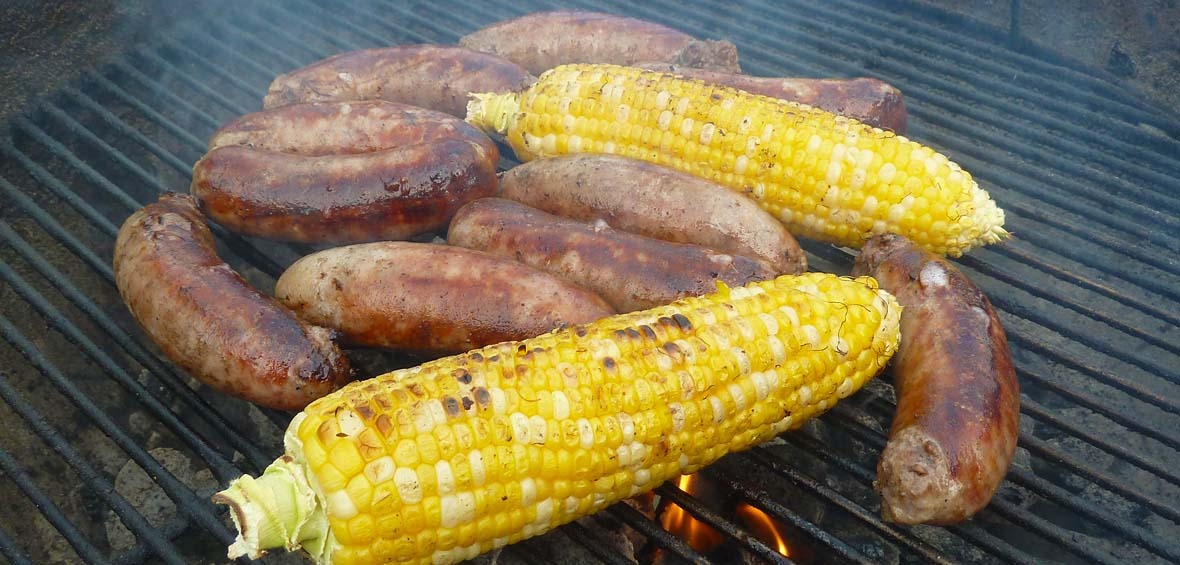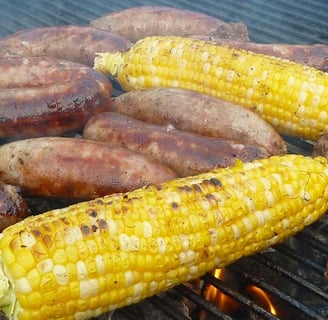 Hey, got corn? If so, what not make our BBC Combo the centerpiece of your Bratfry! Once you've mastered the Basic Brat, this would represent a significant enhancement of your Brat Fry talents. Place your corn on the perimeter of the grill so they don't burn all up. Otherwise you'll just be left with bird feed. Keep giving the corn a turn, moving 'em around the hot spots on the grill (half the fun is messin' with the grill afterall). But keep a watchful eye on them there brats!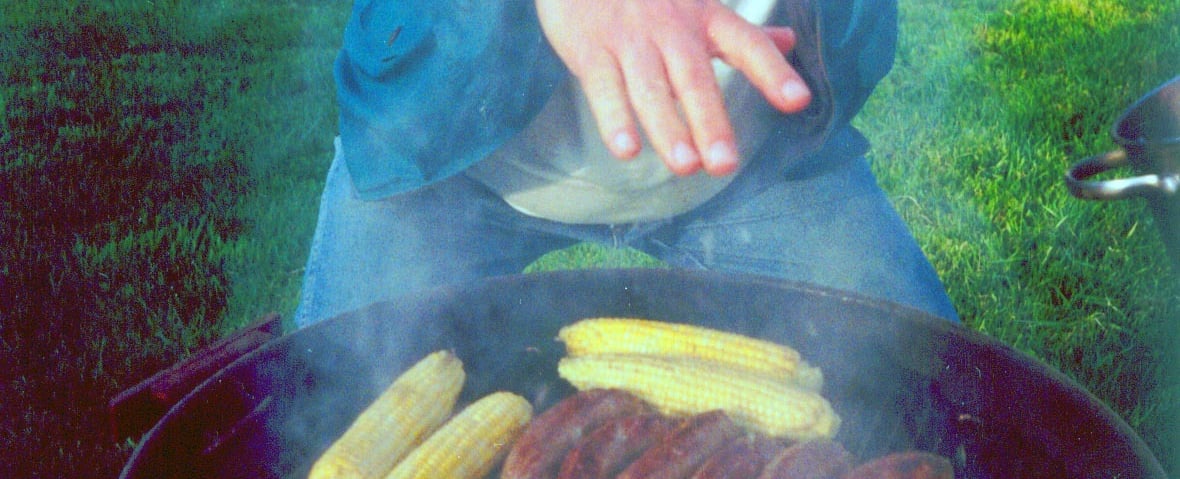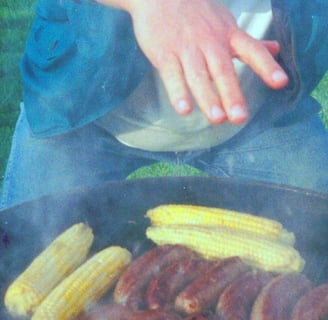 Voodoo Brats require the utmost concentration. Follow the general instructions for frying up some Basic Brats or BBC Combo. Then practice the secret gesticular incantations revealed here for the first time ever on the world wide web, or even in history. Just don't go pokin' them like you see in voodoo movies, or you'll cause a Flare-Up and end up with a real disaster.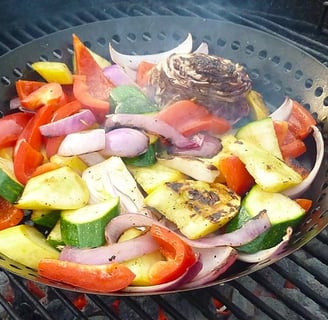 There's nothing wrong with the traditional side of baked beans and potato chips for your Brat Fry (Boulder Canyon chips have been my preference for some time now, but I just discovered McClure's - quite tasty I must say!). But if you want to take tradition to the next level, why not experiment with some new succulent sides!
Pictured above, a meticulously arranged melange of zucchini (green and/or yellow), colorful bell peppers (red, yellow, orange), red onions and radicchio. Pieces of asparagus sliced on a delectable diagonal could be substituted for the zukes.
You can mix and match just about anything you want, and be as creative as you like. A few cherry tomatoes would be a sweet addition or even some eggplant or a jalapeno pepper. Just remember: before you drop anything in the grill pan thing (like the one picture above), toss 'em up with olive oil first, and add some salt & pepper (fresh ground, of course). And make sure the grill pan is really, really hot before you toss it all in there (don't smear or spray any oil on the pan – let the veggies supply that). Then enjoy the sizzle of succulent sides!
Secret Tip: Do you want to take it to the level above the next level?
Add a few shrimp (seasoned with a bit of Chef Paul Prudhomme's Blackened Seafood Magic) and you got yourself a crowd-pleasing surf n' turf buffet. Sure beats the brats n' bullheads version from my childhood.